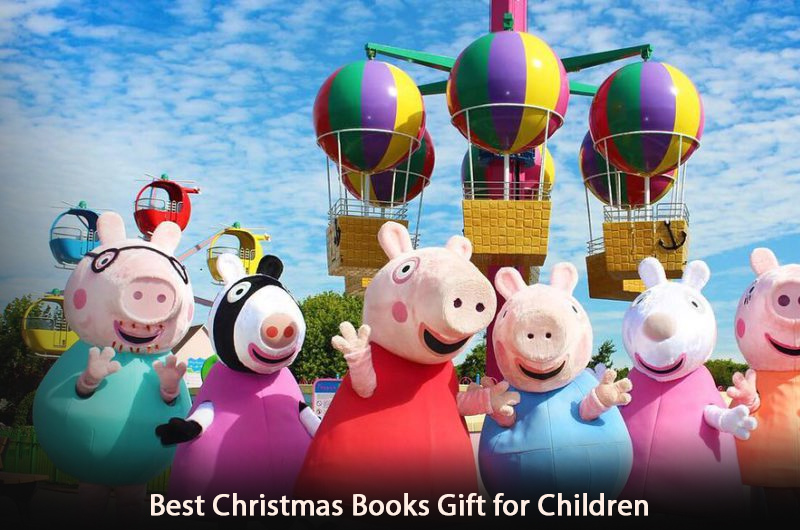 Christmas is approaching, and gifts are being chosen for family and loved ones. Have you already decided on what you will get for your child? Books are great presents that shape a healthy and smart childhood. Getting a book for your children when they are young will definitely help them when they get older. This article will list 10 of the best children's Christmas book gifts under 10£.
Age: Toddlers
Peppa Pig's Family is a four-book collection that teaches your toddler family love from a very early age. The collection features four books: My Mummy, My Daddy, My Granny, and My Grandpa. Peppa and George are caring little pigs who love their family to the extreme. These books can be given as gifts at Christmas and on Father's or Mother's day.
Age: 3+
One day is a special day for Thomas the train: the Big Controller entrusted him with a mission! He must lend a hand to Victor. The other day, it is a great search to find all the favorite locomotives of children. The 10 books in this collection promise the utmost fun and endless entertainment for children aged 3 years and above. Thomas the train is a fan favorite and has been so for generations.
Age: 3+
Are you trying to give your child an educational gift at Christmas? The First Thousand Words in Spanish is the best choice if you want to teach your kids Spanish. The collection of books allows your child to learn words in both English and Spanish.
Age: 5+
Who doesn't love to hear the children's giggles and laughs? Michael Rosen can help you achieve just that. Funny Animal Stories Collection is a 6 book series that introduces memorable characters such as Tiggs, Fluff The Farting Fish, and Burping Bertha. These books come with beautiful illustrations and stories that are guaranteed to put a smile on your child's face, a perfect gift to give as a Christmas gift for kids.
Age: 7+
Santa Montefiore is a world-renowned children's storyteller, and with the Royal Rabbits series, she did not disappoint. This is a story about a rabbit willing to unearth a secret society that is overprotective of the royal family for unknown reasons. The events of the stories will develop, and gradually, you and your child will discover secrets and sail through adventures worthy of remembering.
Age: 7+
The worst Witch is a collection of 8 books for young audiences between 7 and 9 years old. Jim Murphy included beautiful illustrations in this piece of writing, adding to the reader's experience an extra dose of imagination. The Worst Witch tells of the adventures of a team of witches in a school of magic. Each book in this series delivers a good moral story.
Age: 8+
This could be the best children's Christmas book gift for football fans. It is a collection of 3 books full of records, puzzles, and even football jokes; it will keep your child genuinely interested and enables him/her to have fun for hours. The jokes are an array of puns, quips, and knock-knock jokes. The jokes are most of the time accompanied by facts; your child will have fun as well as learn new things.
Age: 9+
You would be surprised if you knew that the writer of these series is the same person who wrote Yes Man, a book that was later adapted into a great movie starring Jim Carrey. The Hamish Collection is a 5-books of hilarious content. Join Hamish as he embarks upon adventures to save the world from extraordinary evil. Your child would definitely want to reread these books over and over again. The best Christmas books deserve to be read more than once.
Age: 10+
Against the promise of a year's worth of free pizzas, Percy Jackson tells the story of twelve Greek heroes and champions! Among them, there are essential figures, such as Hercules, Perseus, and Jason, but we also discover other less-known figures like Utrera and Cyrene … On this adventure, there will be poisonings, betrayals, and murders, all delivered in a friendly and exciting way by Rick Riodan. This is one of the best children's Christmas book gifts for children that you can buy for just under £10.
Age: 12+
Solving mysteries is everyone's cup of tea. Your child will love these treasures; the whole family can enjoy them. There are three books in Rose Raventhorpe Investigates Collection, and each deal with a different murder and gives your child a chance to discover the culprit in different ways, none of which is like the other. The books are Black Cats, Butlers Rubies, and Runaways Hounds and Hauntings. Janine Beacham did a great job bringing this masterpiece to life for kids to enjoy at Christmas.
If you enjoy this post, could you comment below if you have chosen any gift from this list?