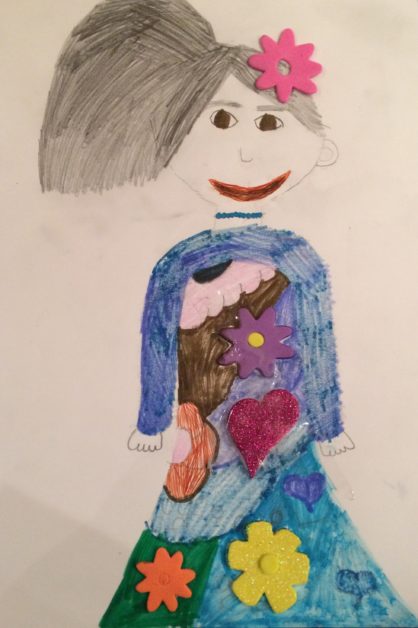 It always surprises me what a simple encouragement can do to a child. My lovely daughter – the typical rebellion type, usually do always the opposite what you suggest, today, she is being encouraged by my tactical words, such as 'what would you like to be when you grow up', 'be that someone you want to be', 'take up your strength' etc., then she went very happily to draw this lovely picture, I call it 'A Girl in a Floral Dress', she pencilled it really quickly, then it's done. When I ask if she wants to put colouring in the picture, the answer is a simple 'yes'!
This type of art work by my kids always gives me great pleasure, I almost want to go to church to do a 'confession', but since I'm an atheist on the paper, I have to change to my lovely reader group here!
I am not proud of my educational style to my kids. Not only because my limited off-work time struggle, but also because I was born in a completely different culture from them (China and UK – yes I know). To this day, I still have to constantly adjust the expectation I put on them, which I feel hurts to say to myself 'regardless how much effort and time you put in place with kids, remember they will always choose what they want and what they do for their life when they grow up, your nagging and protection will one-day becomes unnecessicity!' I don't know why I feel so resentful – isn't it all parents deal with the same problem like myslef? Or am I just too sensitive about the effect?
Back in the day when I was a school child, strict school rules, mum's close monitor of everyday activities, and the pressure of demonstration of work achieved to family and friends, these were all what I was to abide by, and being surrounded in such culture, I guess I didn't know what to question or even make sense of why I have to question until when I was a teenage. Then it all changed, I rebel and threaton to leave home, of course I didn't in the end, instead I just cried and confused about the life itself and the boys, but I didn't even have any friends to talk about. I am so afraid my own daughter will suffer and experience all that, but I don't know what I can do, maybe sometimes I am trying too hard to do something that I think it will stop all the bad things from happening in her life. Then it all ends in one line 'See I've told you' – because my lovely daughter always runs into it before listening me telling her about it anyway.
Anyway, learning from the experience is always a good tool for future reference. I know the moment I let go, give my girl the freedom, she starts to bloom and show her stregth. Maybe this is way going forward!

So here we go, 'being a designer' practice take 1, let's hope more to follow, and it will companies a happy mother and a happy daughter!