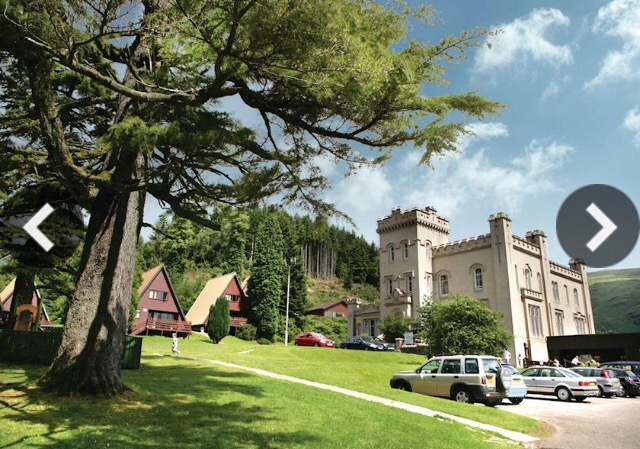 The Journey
Driving to Lochgoilhead in Scotland isn't the kind of normal driving experience – but it's Scotland highland we are talking about, so have to save the complaint just go with the narrow lane and on-and-off drizzle rain all the way.
It all seemed worth the journey when we reach our destination Lochgoilhead Argyll Holiday park, the pointing roof lodge looks fantastic for the next 3 nights!
This holiday lodge is a 2-bedroom accommodation with 2 showers and 2 toilets. It's a type of family accommodation most suitable for a 4+ party size.
Master bedroom's en suite has a much spacious walk-in shower comparing to the downstairs one. I found the closet and dressing table are all handy to use.
Kitchen is small but functional – with oven, microwave, dining sets, cutlery and a dining area which can look out of the window for a nice mountain view scenery.
Living room is equipped with two good sized sofas, coffee table, a CD player, standard TV (not a smart TV) and a DVD player.
We didn't take any DVDs with us this time as our previous holidays I could use onsite wifi to watch Netflix online, so no need for any DVDs. But this part of Scotland is not great with WIFI, especially if the accommodation is not closer to reception- which is our case, no WIFI connection at all!
Going out-about
Most of our holiday trips we've been to, rather than stay onsite within the holiday park booking an all-inclusive package, we'd always go for self-catering and go out-about explore the area. This time is the same, the first day we went to Inveraray, a town which is 1 hour away from Lochgoilhead. The day after Lochgoilhead beach itself and made full use of the park's facility. Then the last day Luss, another beautiful Scottish town.
Inveraray
The spectacular view of Inveraray Castle was such a surprise to me, the interior display has demonstrated such wealth in this Scottish family – Clan Campbell, who has century-old heritage culture and art pieces attractive to people from around the world! The famous Downton Abby TV series have casted here for the Scotland holiday scenes! Wow!

Finishing sight-seeing inside of the Castle, we started wandering around the gardens and had a comfortable lunch at the corner of Castle soaking in the sun!
Lochgoilhead

Walking towards Lochgoilhead beach only takes 10 minutes from our lodge. Daddy and kids were trying the adventure route of walking along the stream and stepping on river stones all the way. What a sunny day as well!
The rest of afternoon was spent in the swimming pool. There are also Jaccozzi, sauna and steam room for adults to use. The onsite restaurant has evening entertainment every night, Bingo, disco and quiz night etc. Staff are friendly and pretty engaging with all kids. My girl got a Bingo prize to take home that night, yippee!
Luss

On the way home, we dropped by Luss, a beautiful Scottish village with a stunning beach. Ducks and swans are so lovely to see us – cos we got food for them! Grandma even got pecked on the leg!
[contact-form][contact-field label="Leave your name here!" type="name" required="1″ /][contact-field label="Fill out your email address here" type="email" required="1″ /][contact-field label="Leave a comment to let me know what you think!" type="textarea" required="1″ /][/contact-form]