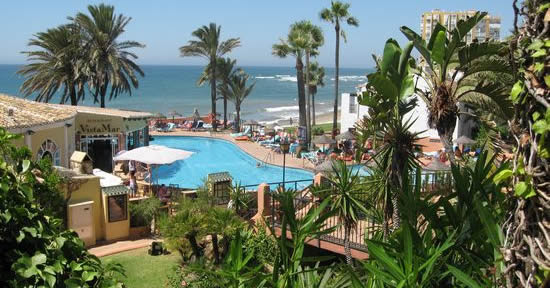 MacDonald Dona Lona Resort
The beautiful MacDonald Dona Lona Resort located at Calahonda area of Mijas county, which is between tourist city Fuengirola and Marbella, south coast of Spain. Some would call it Costa del sol or Andalucia area. Malaga airport is about 35 minutes away from this resort.
Accommodation
Modern deco with an open plan area for dining set, sofa and TV. Solid wooden furniture make it look comfy as a holiday home.
Both 2 bedrooms have very comfortable beds. The bed sheets get changed twice during the 10 days of our holiday. Each has plenty of cupboard space for clothes hanging.
The main master bedroom connects to the balcony which gives enough shades from the heating sun, as well as an open air area for an evening drink.
Kitchen has oven, microwave, dishwasher, full cutlery set, as well as crystal wine glasses! Even washing-up liquid, dish towels are provided.
Looking out of window, we could see beach in a short distant. Tropical palm trees are right outside accompanying our entire holiday.
Beach
Walk to the beach from the apartment is about 3 minutes. It is not a private beach to the resort, but it has provided a haven for us and kids every day of our holiday.
Get-about
There are two major tourist cities east and west side of Dona Lola Resort. Fuengirola and Marbella. Bus or coach tour is about 20 – 30 minutes. We had a number of day trips to these cities, also including Gibraltar, which is a British state on Spanish soil. The 2nd time visit to Gibraltar still makes an interesting trip for us all.
There are number of restaurants independent of the resort, but located right outside the resort. However, the sufficient self-catering facility and a good choice of supermarkets around, we hardly needed to eat outside. Of course the hotel offer 'half-board' and 'all-inclusive' meal deals at their trendy cafeteria. We found most of them are English-speaking customers.
The weather in May and early June Mijas is just fantastic, we didn't have any rainy day, one or two windy day but always sunny – just what we need to escape the British grey skies!
I would recommend this as a family holiday to everyone who has kids 3-year-old plus. We would definitely go there again for our next beach holiday.