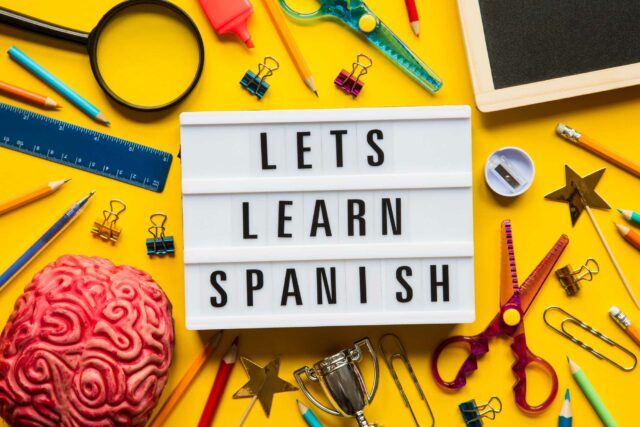 Bilingualism is more critical than ever in today's increasingly connected world. That's why exposing kids to different languages from an early age is so important.
One of the best ways to do this is through reading. And what better way to engage kids in reading than with great books?
That's why I've put together this list of the best kids' books in Spanish. These books are not only entertaining, but they're also educational. They're perfect for bilingual kids or those who are just learning Spanish.
So why not add them to your child's bookshelf? You might just be surprised at how quickly they start to learn.
The Power of Bilingualism for Children
Being bilingual is a superpower! It can open doors to career opportunities, help make travel more enjoyable, and increase cultural awareness. As parents, it's important that we take the time to nurture bilingualism in our children from an early age. Let's look at why it's so beneficial to raise bilingual children today.
The Benefits of Early Exposure
For our children to truly become bilingual, they should be exposed to two languages as early as possible. This means introducing them to new words, phrases, and ideas before they even start talking. By exposing them to two languages early on, children are able to develop both languages simultaneously and seamlessly switch between the two. This means that when they start school they already know two languages and can easily pick up more in the future.
Bilingualism Improves Brain Development
Studies have shown that learning multiple languages has positive effects on brain development and cognitive functioning. Not only does it improve language-based skills like reading and writing, but it also helps with problem solving and critical thinking skills. Additionally, being able to communicate in multiple languages can improve memory recall abilities because your child is constantly switching between different sets of words which helps strengthen neural pathways in the brain.
Social Skills & Cultural Awareness
Having a second language gives our kids access to an entire other world of social interaction which will surely come in handy throughout their lifetime! They will be able to communicate with others who speak a different language or dialect which will enrich their social life by helping them better understand different cultures and customs while making new friends along the way. In addition to this, having multiple language skills can be beneficial when looking for jobs or applying for college down the line!
So now that we are clear why bilingualism is so important, let's take a look at the best kids' books in Spanish.
These books will not only help your children develop a strong grasp of Spanish but also get them excited about reading. From classic tales to timeless fairy stories, there is something here for everyone! Here are some great kids' books in Spanish that you can add to your child's library:
First 100 Words / Primera 100 palabras (Bilingual)
Te Amo, Bebe / Love You, Baby
The Little Red Hen / La Gallinita Roja
La Princesa and the Pea
El Principito / The Little Prince
Cuentos que contaban nuestras abuelas: Cuentos populares Hispánicos
¿A qué sabe la luna?
Nochechita
Todo es canción: Antología poética
Ricitos de Oro y los tres osos / Goldilocks and the Three Bears
First 100 Words / Primera 100 palabras (Bilingual)
First 100 Words Bilingual is the perfect tool for teaching bilingual words to younger readers! This fun guide contains over 100 spectacular photos that they'll easily recognize. From food to animals and toys, each image is accompanied by a title written in large and bolded letters in both English and Spanish. This will help your children learn and memorize new words fluently in two different languages. First 100 Words Bilingual provides a great boost for introducing bilingual vocabulary among kids. Don't miss out on this opportunity!
Te Amo, Bebe / Love You, Baby
With this bilingual book, parents and caregivers can show love for their little ones in so many ways! From scarf-wearing pandas to rabbits nuzzling noses, the brightly coloured animal illustrations demonstrate different forms of affection. With each cheerful image is a three-word sentence in both Spanish and English, giving readers the chance to learn two languages at the same time. Moreover, the indestructible pages made with nontoxic material are chew-proof, rip-proof, and washable so that even babies can read it! Perfect for cuddly sessions and solo exploration, this book will show your child just how much you care.
The Little Red Hen / La Gallinita Roja
Let your child embark on a captivating bilingual journey with The Little Red Hen! Featuring 32 pages of fresh illustrations and both English and Spanish text, this 8″ x 8″ part of the Keepsake Stories Collection is sure to build essential reading skills. From the classic story to family time bonding, this Spanish storybook for children will fill your little ones with excitement as they discover a world of timeless tales and adventures! Collect every title from the collection to create the perfect library for your little readers—the perfect keepsake stories that will enchant them time and time again.
La Princesa and the Pea
Introduce your little one to a classic story with a Latin twist—La Princesa and the Pea! From the beautiful Peru-inspired illustrations to the rhyming retelling of Hans Christian Andersen's well-known story, this 8″ x 8″ book offers a unique adventure that children ages 4-8 will love. With English and Spanish text side-by-side, it's an excellent way for your child to learn to guess the meaning of Spanish words from their context as they dive into this classic tale! Part of Susan Middleton Elya's Keepsake Stories Collection, La Princesa and the Pea is sure to become a cherished keepsake in your library.
El Principito / The Little Prince
Prepare to be enchanted by El Principito/The Little Prince! Written by Antoine de Saint Exupery and suitable for ages 7+, this timeless children's classic is ideal for introducing your child to universal lessons about life. Follow a young prince on his adventure across various planets as he contemplates human nature in both English and Spanish—this book makes it easy to learn the language but also inspires conversations about important topics such as friendship, love, loneliness, and loss. Don't miss out on the beautifully animated movie from 2015—the perfect keepsake from this universally beloved story.
Cuentos que contaban nuestras abuelas: Cuentos populares Hispánicos
Discover the classic folktales from the Spanish-speaking culture in Cuentos que contaban nuestras abuelas: Cuentos populares Hispánicos by Alma Flor Ada, a collection of 12 folktales appropriate for children aged 6 and up. With few illustrations, this book is intended for those already familiar with Spanish, making it perfect for young readers to enjoy, explore, and rediscover these all-time favorite stories.
¿A qué sabe la luna?
Have you ever wondered what the moon tastes like? ¿A qué sabe la luna? by Michael Grejniec is a sweet, dreamy story about different animals, including Elephant, Turtle and even a Little Mouse, who set out to find the answer! The perfect bedtime story for young readers aged 3 and up, you can listen to the tale or watch the animation with your little one – just not before bedtime! Embark on an adventure to discover if the moon tastes salty or sweet.
Nochechita
Mother Sky and Nochecita, a charming mother-daughter duo, take readers on a magical journey in Yuyi Morales' 'Nochechita'. For kids aged 8 and up, this captivating story is filled with vivid illustrations in purples, blues and reds. Follow the two as they make the night sky dark so that everyone can sleep — you'll be hooked from the very first page!
Todo es canción: Antología poética
Discover the joy of poetry with Alma Flor Ada's "Todo es canción: Antología poética." This engaging collection contains poems that range from topics like "mi cuerpo y yo," to "en la escuela," to "con los que más quiero." Targeted towards bilingual learners ages 7 and up, this anthology serves as a fun and educational tool to practice language while enjoying literary delight. As an advocate for bilingual education in the United States, Alma Flor Ada brings her passion to life through her enjoyable poems that are sure to bring pure delight and understanding.
Ricitos de Oro y los tres osos / Goldilocks and the Three Bears
Immerse your child in the magical world of classic storytelling with Goldilocks and the Three Bears. This 8″x8″ bilingual story book features 32 pages of stunning illustrations that bring the beloved tale to life. From the three surprised bears to curious Goldilocks, each page captures a child's imagination as they journey through English and Spanish text side-by-side. An ideal resource for helping early readers build reading skills while also learning a foreign language, this enchanting storybook shows that there is no language barrier when it comes to timeless tales.
Why these books are important for bilingual kids
Bilingual books bridge the gap between English and Spanish, making it easier for bilingual children to comprehend stories in their native language. Not only do these books support language learning but they also encourage kids to explore different cultures and traditions. Bilingual books can help children appreciate diversity while improving their cultural understanding—something that is often difficult to do through traditional teaching methods. Additionally, bilingual books can help children develop a stronger sense of self-identity and pride in their culture.
How parents can use these books to help their kids learn Spanish
Parents should read to their children regularly in both languages to ensure that they have enough exposure to each language. As the child grows older, parents can also encourage them to read more on their own. Parents should also be aware of the different types of bilingual books available and select those that best suit their children's interests and learning style. Finally, parents should create a fun and engaging environment where children can explore Spanish in an enjoyable way. With patience and consistency, parents will help foster a lifelong love for reading and language learning in their children.
Conclusion: The importance of bilingualism in today's world
Today, bilingualism is a growing need and an invaluable asset that can open up new opportunities for people around the world. Bilingual books are a great way to help kids build upon their language skills and gain a better understanding of other cultures. Whether you're raising a bilingual child or looking for a way to introduce Spanish at home, these books are the perfect way to get started! With the right resources and support, bilingual children can achieve great things in today's world.
Learning another language is incredibly rewarding — not just for our children but for us too! It's amazing how our little ones are capable of taking on such complex tasks at such a young age and being able to successfully utilize both languages on a daily basis. We should always remember that raising bilingual kids starts with us as parents, so let's make sure we encourage our kids every step of the way! With dedication, hard work, and patience, you can watch your child grow into an amazing multilingual individual who may even teach you something along the way!