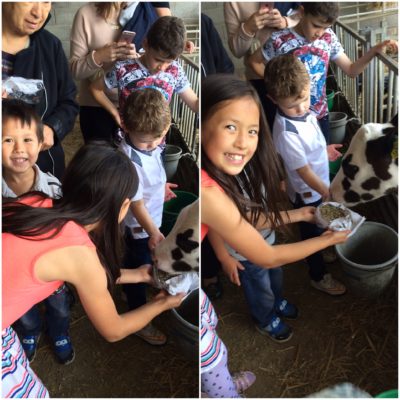 2017 has arrived so fast, I am still trying to catch up with my 2016 review list – here is to all my friends, parents, grandparents and carers alike, also anyone who's interested in children play centres, farms and family entertainment venues, I have compiled a list for everyone as a reference in Northwest England, hope it helps your decision on your day-out trips.
Address: 3, Bridge Court, Preston PR4 5BF
Phone: 01772 616898
Go Create! is an arts and crafts studio designed for kids. It is based on the A59 near Longton halfway between Southport and Preston. It has a spacious car parking facility and open daily from 10am-5pm except Mondays. You can simply drop in without booking in advance. Inside Go Create you will find child friendly sized tables and chairs suitable for ages from 1 to 7+.
My active girl B is in love of this place on our first visit. There are so many craft materials to choose from – foams, fabric, fuzzy wires, polyester modes and shapes, playdough, paints as well as all the tools needed for craft-making. Craft models are displayed in the workshop already for us to use as reference. Look at the supergirl we made, pretty awesome isn't it?
Address:
Hawkshaw Farm, Longsight Rd, Blackburn BB2 7JA
This is a family-run dairy farm that has diversified into making ice cream, using milk from their own cows. The philosophy is to make real honest ice cream for their own brand and with real natural ingredients that's much healthier to its customers. The farm provides children (and adults alike) the opportunity to see, touch and even handle their animals under the handlers' supervision. The park has been built with special safety feature to ensure visitors easy tour-around. After being out on the farm, the onsite cafe also allows visitors to sit back and relax in a children friendly diner with a coffee, home-made cake and of course ice-cream etc. Opening time is 1030am to 5pm from Spring till August including weekend and Bank Holidays.
We visited the farm in August, kids have enjoyed it so much seeing the farm animals – cows, goats and pigs. They also got the chance to hold the little chicks with such in-awe faces! Of course the ice-cream there is absolutely yummy!
Merchants building, Kent Street, Blackburn BB1 1DE.
Telephone: 01254 699768
Funtazia is one of Lancashire's newest and largest indoor play centres with over 24,000 Square feet of play space and equipment. They have variety of facilities to cater kids at all ages: disco dome, quad bikes, cannons, football table, football pitch, family entertainment centre, mega slides, bouncy castle, trampolines, air hockey, pool table and separate toddlers area for under 4yrs old.
This play centre is particular a good place if you have kids at different ages – my girl B and boy M has a 6-year gap. At Funtazia, both of them find exactly what they want to play. My boy M (4-year-old) enjoyed so much of the 'Mary Go Round Horses' play (see picture above), he just ran after the horses around and around, not even bothered to get on the horse-back!!! My girl B (10-year-old at the time) just found the mega slides more risky and exciting, she went through the slides so many times with her friends with high-pitched screaming all the way!
60 to 62 Lodge Street, Preston, Lancashire, PR1 8XE
Telephone: 01772 556541

Mini MaGee Party and Play Centre is for children aged 0 to 12. It provides a safe and fun environment for kids to jump about in the huge ball pool, slide the 3 lane wave slide, have a kick around on the football pitch whilst mum and dad grab a cappuccino and homemade cake. They have even got a separate area for babies and toddlers with a tiny kitchen and blackboard as well as everyone's favourite toys!
I come here often with my kids due to their location being so close to myself. Personally I prefer a visit on a Sunday morning, as it's a quiet time there and kids can have pretty much fun in all areas without the risk of bumping into other kids.
Address: Preston New Road,
Samlesbury,
Preston PR5 0UP
Samlesbury Hall is one of the stunning stately homes of Lancashire, a haven for history lovers, where the past meets the present – a fantastic, family day out. Everyone can enjoy intrigue, witchcraft and centuries of fascinating history throughout their archive rooms. Having coffee in their award winning restaurant, as well as enjoy the freshly cooked waffle in Dottie's and a milkshake at the end of the day! From the Victorian kitchen, schoolroom & the 1950s bedroom, there is plenty to see, along with changing exhibitions in the Long Gallery. Find a hidden gem in their delightful gift shop, tour the grounds, feed the rescued hens, throw a penny into the fountain and make a wish, while away a sunny afternoon.
Samlesbury Hall is open to visitors all year round, Sunday – Friday, 10am – 4pm (They close occasionally on a Friday for weddings)
When I was told Samlesbury Hall is a haunted place, I checked their website – it amazed me so much that I totally ignored the haunting story and decided to pay a visit. The witty, humorous and knowledge-packed tour guide/witch of the day, turned to be the highlight of the Samlesbury Hall visit. We learned so much about Samlesbury Hall's history, kids had great fun exploring all the achieve rooms and the delicious ice-cream!
Address: The Lake District Visitor Centre, Windermere LA23 1LJ
Brockhole Windermere is a not-for-profit attraction run by the Lake District National Park Authority. All profits made go towards keeping it special for future generations. A range of their offers including boat hire, bike hire, archery, adventure playground, mini golf, pony ride and treetop trek is for everyone to try out and explore.
With a packed calendar of events, lots of things to do and special arrangements for school, college and youth group visits, Brockhole Windermere got something for everyone come rain or shine!
The picture above on the left is their stunning cafe building, it was a lovely sunny afternoon when we visited, adults and kids all enjoyed the view overlooking a land of peaceful and tranquil meadow!
Address:
Drumlan Hall Farm, Newton Ln, Tattenhall, Chester CH3 9NE
The Ice Cream Farm is a family friendly tourist attraction bursting with all of the fun you need for a great day out in Cheshire. They have been mixing up a whole new flavour of activities from ice cream scooping, JCB diggers, Daisy's themed adventure play garden, candylicious crazy golf, real life animals in Fudge Farm and Sand & Water Play that will knock the socks off anywhere you've ever been before. Add what is considered to be the World's Largest Ice Cream Parlour and nearly 50 flavours of award-winning ice cream into the mix, The Ice Cream Farm has got the perfect day out for the all family.
The most impressive part for me and the kids are the 'ice-cream tree bubbling', when the scene is on, I could really feel it was like the 'ice-cream grow out of the ice-cream tree'!!! Hope you do pay a visit and enjoy!
Address:
Williamson Park, Quernmore Rd, Lancaster LA1 1UX
Williamson Park in Lancaster is a home to the iconic Ashton Memorial and 54 acres of beautiful parkland with enchanting woodland walks, play areas and breathtaking views to the Fylde Coast, Morecambe Bay and the Lake District. The park features a cafe and shop, Butterfly House (formerly a tropical palm house), and resident mini beasts and birds.
If you are looking for a nice view and kids play area the same time, this is where you want to visit! My kids enjoyed it so much they were begging to go back to play 'one-last-time'! Of course you know the 'one-last-time' isn't really just ONE last time…
Address:
Cabus Nook Ln, Garstang, Preston PR3 1AA
Old Holly Farm is a family run, working organic dairy farm and it is located in Garstang, Lancashire. They open from 9am – 5pm daily, with FREE entry to the open farm and parking. They have a fabulous indoor soft play, a traditional stone courtyard café serving homemade food, where you can treat yourself to a Coolcow ice cream from their farm shop, or go along and meet their traditional farm animals.
This is one of the few 'free-entry' animal farms in the area. I personally think it is particular suitable for babies and toddlers where parents can show them farm animals and also enjoy a cup of coffee while kids playing in the small soft play centre. The soft play area is petite but kids friendly.
Address: Charnock Farm, Wigan Road, Leyland, PR25 5DA
Phone: 01772 622934
This is a beautiful wedding venue with a children friendly pond full of wildlife, an animal barn with donkeys and ponies and a pet corner in the garden centre that kids would find a lot of fun! My girl is so fond of the ponies she was trying to persuade me to get one for her at home%$$#&* (errr not a good idea I had to tell her!) Whereas my boy M enjoyed watching the traditional watermill system running across the farm, he was having his best time finding out where the water flows!