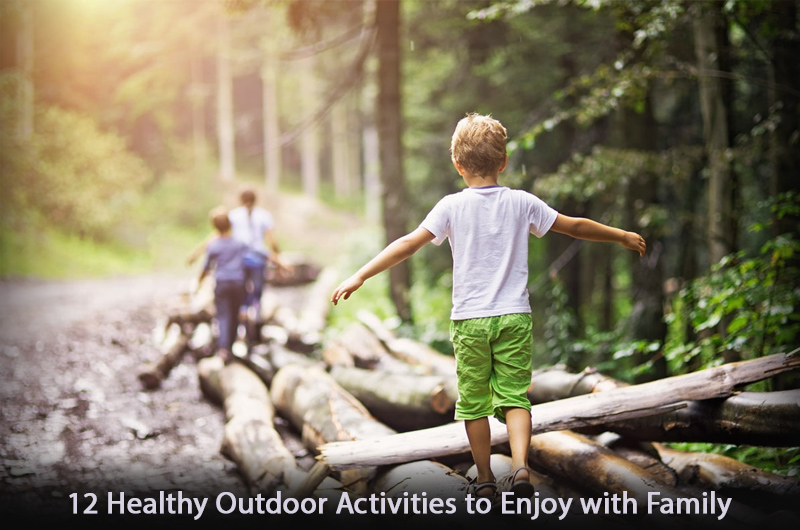 With spring around the corner, it's time to start planning fun outdoor activities with your kids. These days, children and adults spend more than enough time in front of screens, and many of us don't get as much time outside as we should.
Fortunately, there are countless activities your family can partake in as the warm weather arrives that will keep everyone active, engaged, and learning. Maybe you live near a park, lake, stream, or beach. Perhaps you live in the mountains or on a plain.
No matter where you are, you can have fun with your kids while soaking in vitamin D! Working Mum Kitty has listed 12 family outdoor activities below — many of which you can do in the backyard!
1- Berry Picking
If you live near a berry farm, consider taking your kids to pick for the day. It's best to start early or go on a chilly day; otherwise, it may feel like baking in the sun! Also, understand that going on a weekday will give your family a quieter experience.
Even on a more relaxed day, bring sunscreen and hats to protect your skin from the sun. You may also want to bring some plastic bags or extra baskets, snacks, water, and entertainment in case your family needs a break. If you want to get your children excited about your berry-picking experience, look up some fun pie recipes you can make when you get home!
2- Backyard Campout​
One of the easiest ways to create a fun time for your family is to set up a campsite in your backyard. All you need is a tent that fits everyone in your household, a few camping chairs, and some blankets. You can make it a full-day experience and plan outdoor activities together.
For example, you can have a picnic lunch, read books, sing songs, and camp overnight if the weather permits. If you need to improve your backyard or outdoor living space for your campout or other activities, document the upgrades. Photos and receipts can be helpful if you get your home reappraised in the future.
3- Kindness Rocks
Painting kindness rocks is a fun and thoughtful project for any family. It means collecting stones from your property and decorating them with encouraging messages.
Get a small amount of paint and a few paint pens, and create inspiring messages and artwork with your kids. Then, you can plan a family outing where you leave the rocks in various areas throughout your neighborhood, parks, and schools.
4- Water Balloon Toss
Another easy and fun project with your children is the water balloon toss. Fill up a bunch of balloons with water and put them in a bucket. Then, line your kids up across from each other, tell them to toss the balloons, and prepare rewards for catching them without dropping them.
As your kids catch the balloons, gradually increase the distance between them, making the game more challenging. Fortunately, they create self-seal water balloons, making preparation even faster.
5- Water Balloon T-Ball
This is another activity you can do with a bucket of water balloons. Bring out a T-ball stand, and set up players for a baseball game. Using a soft bat, you will see the water balloons fly and splash, making for a fun time for everyone!
6- Nature Scavenger Hunt
If you live near a park or hiking trails, this is an excellent activity to get your kids out in nature. Research various scavenger hunt plans online to find one that excites your kids and doesn't require a lot of preparation. Give each child a container to store their finds, and let them explore nature as they look for their prizes!
7- Nature Walk
If you don't want to prepare for a scavenger hunt, you could take a nature walk with your kids. Bring binoculars or a magnifying glass so your children can see some of the birds, flowers, and insects native to your area.
You can take it to the next level by getting a pocket bird guide or other small guides that show your kids what to look for on the walk. You could also play "I Spy" to give your kids a chance to describe the nature around them.
8- Homemade Slip 'N Slide
The Slip 'N Slide is an American treasure; you can make your own with your household items! For example, if you have a large tarp, simply lay it out on an incline in your yard, and use a hose to provide a steady water flow. You can take the experience up by throwing inflatable pool toys into the mix.
9- Mud Art
Kids love water and dirt, so why not plan activities based on those elements? Give your kids aluminum pie pans and tell them to collect grass, pebbles, flowers, and other items from your property.
Then, have them make mud pies with water and dirt. Once their pies are created, they can add their nature items to create mud art masterpieces!
10- DIY Ice Cream
There are many benefits to allowing your children to help you prepare food, which extends to sweet treats! Consider investing in an ice cream ball to make your backyard ice cream.
All you have to do is put your ingredients in the ball and roll it around for half an hour, and voila, you have a delicious soft serve! Your kids can make up games as they move the ball on the ground and wait for the ice cream to form.
11- Backyard Obstacle Course
Obstacle courses have been a childhood favorite for a long time, and you can make your own obstacle course with some of the backyard items you already have. Collect your kids' toys, sports equipment, swing sets, chairs, and other things, and set up an obstacle course for your children.
To make it extra fun, establish a time limit and time for each child as they navigate the course. This is an excellent way to exercise while soaking up the sun.
12- Homemade Birdhouses  
Help your kids get crafty by making their own birdhouses. You can go all the way by building them with wood, provided you have the necessary tools.
But you can also simplify the project using plastic or cardboard cartons around the house. Find some online plans that appeal to your kids, and have them build and decorate a birdhouse they can be proud of.
As the weather warms up, it's the perfect time to plan a few outdoor activities your kids can enjoy. The good news is that you can do countless activities at or around your home. Consider the ideas above as you prepare for spring and summer fun, and get your kids off the electronics and into nature as much as possible!
Would you like to read more helpful content or access many other educational resources? Visit WorkingMumKitty.com