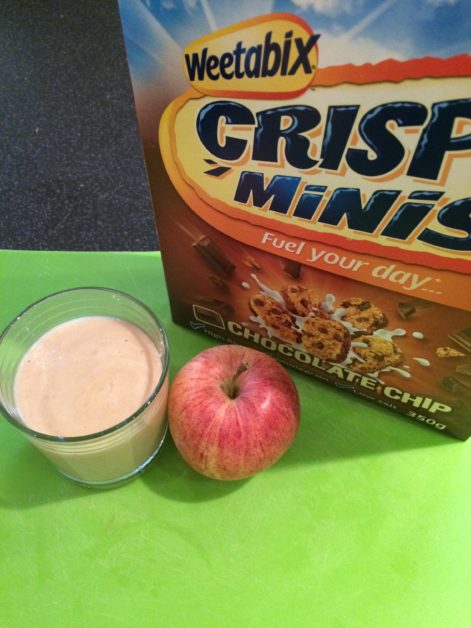 Apple Weetabix Milkshake
The ingredients of this apple Weetabix milkshake are:
An apple cored, cutting into dices
5 pieces of Weetabix biscuits
2 dices of crystal gingers
Half cup of semi-skimmed milk
Optional vanilla extract if you need to add some sweet taste
This apple and Weetabix milkshake is a great sources of vitamins and fiber which help in boosting the body's metabolism and also accelerate weight loss. Apple also provide essential carbohydrates which help in boosting energy in your body.
On the other hand, the milk and Weetabix used in this milkshake provide calcium, proteins and essential fats which are important to maintain healthy bones and joints.
Have a try to make this yourself – don't forget to get your kids involved, I'm sure it will be a lot of fun!
Here is a list of milkshake books for your to explore as well, enjoy!

Also I have a recommendation for a modern blender – BESTEK 3 in 1 600W hand mixer.
You can use this modern sleek blender not only for blending smoothie, but also use it as a Chopper Bowl or an Egg Whisk! So 3 functions in one!
Good feathers for this BESTEK blender are:
BPA Free 500ml Chopper Bowl, Egg Whisk and 800ml Vessel can meet you various request.
Uses variable speed control dial and turbo button to make delicious and healthy smoothies, pureed soups, marinades, sauces, juices.
Built with an ergonomically designed body with rubberized handle for a secure grip and comfortable blending.
 Robust stainless steel crushing blades and 600W powerful motor provide quickest food process.
BESTEK Brand Guarantee 18 Month Maintenance Guarantee