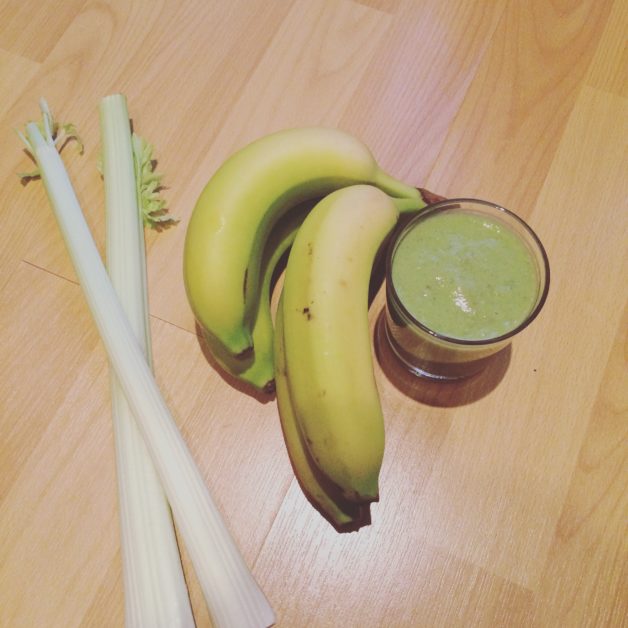 Celery Banana Milkshake
Ingredients for this green milkshake:
2 stick of celery cut into small pieces
1 banana cut into small chunks
A handful spinach leaves
A small cup of cucumber cut into small pieces
Half Shredded Wheat biscuit
A piece of crystal ginger
A small cup of milk
Now you are ready to put them in a blender – 2 minutes and it's ready!
The benefits of celery begin with it being an excellent source of antioxidants and beneficial enzymes, in addition to vitamins and minerals such as vitamin K, vitamin C, potassium, folate and vitamin B6.
You also would love to know that celery also provides dietary fiber – especially when you eat more than one cup at a time – that boosts digestion and weight loss.
In addition, celery's high percentage of water and electrolytes can prevent dehydration, and special compounds help celery to act as a diuretic and reduce bloating. As a supplier of antioxidant flavonoids and polyphenol phytonutrients, other significant benefits of celery include its ability to improve liver, skin, eye and cognitive health.
According to Dr Axe (www.draxe.com), celery has 10 benefits
1. Helps Lower High Cholesterol
2. Lowers Inflammation
3. Helps Prevent or Treat High Blood Pressure
4. Helps Prevent Ulcers
5. Protects Liver Health
6. Beneficial for Weight Loss
7. Boosts Digestion and Reduces Bloating
8. Contains Anti-Microbial Properties That Fight Infections
9. Helps Prevent Urinary Tract Infections
10. May Help Protect from Cancer
I hope you enjoy this healthy milkshake, here I will also recommend one of the bestseller blenders on Amazon – Russell Hobbs Desire 3-in-1 Hand Blender 18980.
Look at the cool colour and it's elegant design:
Good feathers of this elegant blender are:
Classic but striking combination of black and red design
Russell Hobbs Desire has detachable stainless steel shaft, which has a stainless steel blade and comes with 2 speed settings and 400 watts of power.
It comes with a 0.5 litre capacity chopping attachment which includes a strong stainless steel blade,
It has a 0.5 litre capacity beaker and an additional whisk attachment.
The Desire 3-in-1 Hand Blender comes in a stylish matt black finish with red accents.