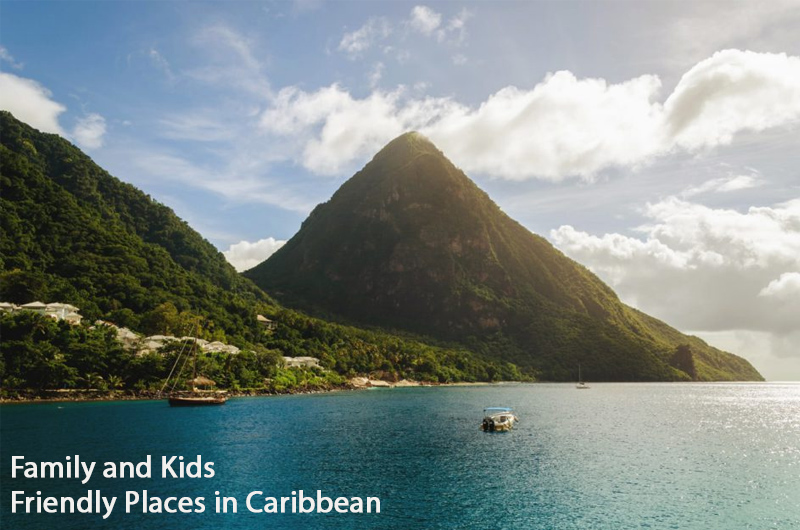 As much as couples enjoy the summer days, Bridgetown in Barbados is also great for kids to have fun. You and your kids can visit several attractions when you are in Barbados. We have found three of the best kid-friendly places you and your family can visit.
Adventures in Barbados
Barbados has 3 of the must-see location: Harrison's Cave, Bathsheba Beach, and Barbados Wildlife Reserve. A multi-leg visit is easy, and you can enjoy the scenery throughout the trip and learn more about the local fauna, geology, and flora; Then relax on one of the most beautiful beaches on the island.
Sunbury Plantation House
The Sunbury Plantation House is a family-friendly facility that offers visitors a glimpse into the history of Barbados. The plantation house was built in the early 1800s and is one of the oldest plantation houses on the island. The house is made of limestone and features beautiful arched doorways and windows. The house has been restored to its original condition and is now open to the public. Visitors can explore the house and its grounds, and learn about the history of the plantation and its owners.
Barbados Museum and Historical Society
The Barbados Museum and Historical Society is a great place for family visitors to learn about the history of Barbados. The museum has exhibits on everything from the island's geological history to its political and social development. There is also a large collection of artefacts on display, including traditional costumes, tools, and furniture.
The museum is open Monday-Saturday from 9am-4pm.
When you think of Jamaica, you immediately associate the name with the Caribbean Sea, Rum, and the late Bob Marley. Whether for a honeymoon or a family vacation, it is good to ask the right questions. What are the things to enjoy with your kids in Falmouth, Jamaica? Here are the best three kids-friendly destinations in Falmouth, Jamaica.
Doctor's Cave Beach
Founded in 1906, the Doctor's Cave Beach Club is located between the Marine Park, a state-run wildlife reserve that allows you to dive and Snorkeling, and the Hip Strip. The latter is the name given to the part of Gloucester Avenue where the souvenir shops and trendy restaurants are located; it is the leading destination for a family with kids.
Luminous Lagoon – Falmouth
Only 40Km from Montego Bay and 62.5Km from Ocho Rios, you will find a place called Glistening Waters, and it is from there you can take a boat ride on the luminous lagoon. It is, of course, a night activity, and the darker it is, the more beautiful. This very particular and spectacular phenomenon is due to the presence of millions of microorganisms, which emit a sparkle when they are touched. Your kids will love this place and experience the wonderful feeling of watching these animals in action.
Dolphin Cove – Ocho Rios
Bring your kids to swim with the dolphins in a natural cove surrounded by 5 acres of tropical forest. It was in 2001 that Stafford and Marilyn Burrowes decided to transform their property into a water park. The fact that it is opposite Dunn's River Falls has undoubtedly helped attract visitors; today, it is one of the most popular places in Jamaica. For those who always swim with dolphins, it is the perfect place. It is also a place to practice Snorkeling and to be close to Stingray rays; it is very safe for you and your children.
The west coast of Curaçao is known for its beautiful beaches bordered by palm groves and coral reefs. In this place, you can spend a day at the beach and visit famous beaches such as Piskado Beach, Kenepa Beach, and Porto Marie Beach. Along the way, stop to admire the natural wonders of Shete Boka National Park, visit the Flamingo Sanctuary in St. Willibrodus and dive into swimming and diving in the Caribbean Sea.
Aquafari Tour
At Aquafari, you won't have to worry about your kids drowning. The staff will let you breathe naturally. Submarine! This eco-friendly underwater scooter includes a bell-shaped glass container with oxygen from a scuba diving tank attached to the front. This tank provides enough oxygen for the duration of the trip. You and your kids will see dozens of sea creatures during your dive. This is a very recommended kids' activity.
Santa Barbara Beach & Golf Resort
This vast, immaculate, 350-room luxury hotel attracts couples and families with its beautiful spa, tennis lessons, children's camp, three pools, and an 18-hole golf course. The wide white sand beach and a protected swimming area are also highlights. Although it enjoys a quiet location with natural beauty, the Santa Barbara Beach and Golf Resort is far from the city, and no other restaurants or hotels are everywhere nearby. This hotel can offer your kids all the fun they need.
The Spanish Water Lagoon
Stop at the Spanish Water Lagoon to admire the scenery, take photos of the tropical landscape, and then take a break on a white sand beach to swim and snorkel. With the diving equipment provided, admire a tugboat wreck and schools of tropical fish. Sail through a mangrove forest, pass glitzy mansions and mega yachts and enjoy great views of Tafelberg.
Santo Domingo is undoubtedly one of the most exciting cities in the Caribbean. Its colonial city, declared a UNESCO World Heritage Site, is home to superb monuments, lively alleys, and cafes with a local vibe. Take your kids and enjoy the historic city and its monuments.
The Mythical Punta Cana
Located on the East Coast, beautifully renamed the "Coconut Coast," Punta Cana is renowned for its idyllic beaches, ocean-defying palm trees, and crystal-clear waters. Here, bathers are protected by a coral reef that stretches for almost 60 kilometers along the coast, equal to the extent of the beach. This kids-friendly spot will give you and your family unimaginable fun.
The Wild Barahona
Much less known than the rest of the island, the southwest region of the Dominican Republic deploys paradisiacal lagoons and offers breathtaking green landscapes. The natural parks and the vertiginous mountains are peaking more than 3000 meters above sea level and stretch as far as the eye can see. Off the beaten track, Barahona is home to little-known corners and rivers nestled in the lush forests of the Sierra de Bahoruco, where swimming with children is fun.
Eden Roc
A tropical and fun setting To reconcile Dad's passion for golf, mom's love for Zumba, and 100% of children's activities. Eden Roc Cap Cana is a 5-star hotel located in a private bay far from mass tourism which founds the resorts devoid of charms coupled to each other along the East Coast. Younger guests will enjoy living for a few days in this ultra-chic setting which illustrates the successful marriage between the traditional Spanish colonial style and modern Caribbean luxury.
A small English-speaking island state south of Martinique, Saint Lucia is part of the Windward and Lesser Antilles islands east of the Caribbean Sea. On the island, UNESCO inscribed two volcanoes – called "peaks" – 786 meters high and 743 meters high- on the World Heritage List. Do not worry; your kids are safe; the two volcanoes are dormant.
Castries
It is there that you will arrive by boat to visit Saint Lucia. There are many retail stores, restaurants, bars, and supermarkets: everything you need to live at the calm pace of Saint Lucians. Many typical colonial buildings dot the streets from which one strolls toward the Cathedral of the Immaculate Conception. Your kids will enjoy the calm nature and the fun sunny beaches.
Marigot Bay
In Marigot Bay! The city is described as one of the most beautiful on the island, surrounded by hills with lush tropical vegetation and bordered by white sandy beaches. The Saint Lucian parrot (Amazona Versicolor) is one of the rarest and most endangered birds worldwide. Your kids will enjoy visiting him.
Gros Islet and Pigeon Island
Here's one of the must-sees when visiting Saint Lucia: Gros Islet. There are a lot of colorful houses with lots of colors at the feet of palm trees. Traditional music and local dances take over the streets on Friday evenings.
The main attraction is to the north: visiting Pigeon Island is a must. It's an excellent spot for diving and watching tropical fish. Then, the homonymous beach, then the Pigeon Island peninsula, with the colonial military forts: Fort Rodney, the Carib caves, and Signal Peak.
With so many beaches to swim, restaurants to try, and historical sites to see, planning the perfect itinerary for San Juan, Puerto Rico, can seem daunting. Throw the kids into the equation; things could get even more difficult. This is why we have put together this list of the best things to do on the Caribbean island when you have children in tow.
El Morro
Every day you will see families picnicking and frolicking – without shoes, of course – on the grass and colorful kites dancing in the sky. Forgot to take yours? Buy one from a local supplier. And when you start to sweat, refresh yourself with an iced treat, like piraguas (crushed ice) or paletas (popsicles), which come in a myriad of tropical flavors such as papaya and strawberry. This is the best time killer for you and your children in San Juan.
El Yunque National Forest
Visitors can catch the lush landscape by booking a horse ride at the Hacienda Carabali. Kiddos will love meeting the majestic animals before sitting and riding through the foothills of the forest. At the same time, adults will marvel at magnificent Instagram-worthy views of the surrounding flora and fauna.
Museo del Nino
Head to the Museo del Nino when you need shelter from the torrential rain (or the oppressive heat). This three-story children's museum near San Juan in the Carolina neighborhood offers many hands-on exhibits, a mini petting zoo, a climbing wall, a playground, and go-kart racing.
Jamaica is becoming one of the dream destinations for a lot of people. This Caribbean gem offers a fantastic travel experience with a kaleidoscope of natural and cultural wonders. Breathtaking landscapes – sublime beaches, lush mountainous landforms, mangroves, and waterfalls – warm and welcoming inhabitants, a perfect climate … and plenty of kids-friendly spots.
Hope Botanical Garden
Discover the hundreds of unique species and tropical plants available in Hope Botanical Garden. The 200 acres of land offer you and your kids plenty of space to enjoy your stay in Kinston Town.
Devon House
One of Jamaica's most famous landmarks is the Devon House plantation home, the architectural dream of Jamaica's first black millionaire, George Stiebel. Stiebel was among the three wealthy Jamaicans who built elaborate late 19th-century homes at the corner of Trafalgar Road and Hope Road, known as the Millionaires Corner. If you want to introduce your kids to Jamaican history, this is the first place to visit.
National Gallery of Jamaica
This public art museum was built in 1974. It contains several works from celebrated artists such as John Dunkley, Mallica "Kapo" Reynolds, and Edna Manley. Several art pieces are visited frequently by families and art fans.
Grand Cayman is located west of the Caribbean Sea and is the largest of three islands known collectively as the Cayman Islands (British overseas territory). Grand Cayman is small by most standards, about 32 kilometers long and 12 kilometers wide at its widest point. This does not mean there aren't enough kids friendly attractions to visit.
Seven Mile Beach
Seven Mile Beach is justly famous and offers a long crescent of powdery white sand and crystal clear blue waters, everything one would expect from a Caribbean beach. It is ideal for activities in Grand Cayman. It is close to the capital city of George Town, is easily accessible to cruise ship visitors, and offers many more amenities than you and your kids would enjoy.
Crystal Caves
Crystal Caves are located on the island's north side, a whole system of underground caves that have opened up to visitors. These caves have long been private, so they are in immaculate condition. They are filled with stalactites and stalagmites, and there are also underground lakes and open ceilings. You can enjoy these geological wonders with your kids and family.
National Museum
The centerpiece of this small museum is the attractive audiovisual presentation that provides a glimpse of the island's heritage. Natural and cultural history is the subject of the exhibitions, including one on extinct animals. Housed in the oldest building in George Town, the museum also features two rooms in the former prison (Gaol), with drawings of prisoners recently discovered on the walls.
You may also like the following articles as well:
Best Family and Kids Friendly Places in Canada
Visit the Cutty Sark and Afternoon Tea for Two