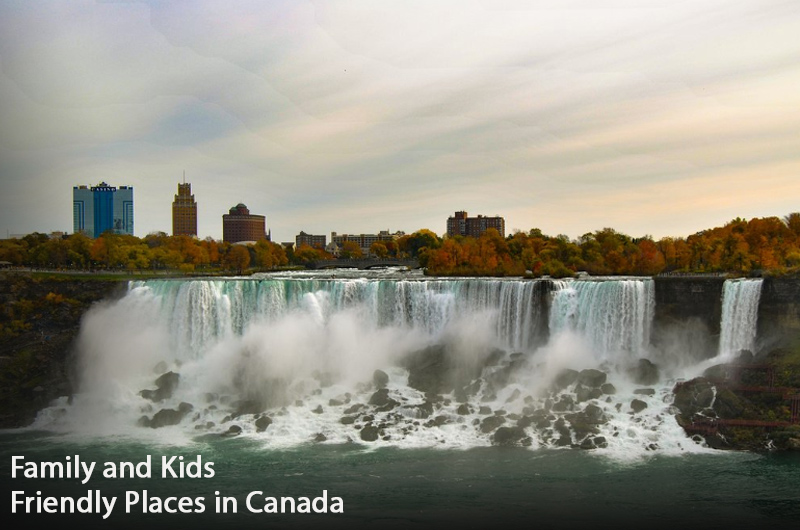 Toronto Holidays
Toronto is one of the best kid-friendly and family destinations through all seasons. There are several places where a family, especially kids, can enjoy a fun and active holiday. We have searched through dozens of kid-friendly places and found the top 3.
The museum of illusions is a fun and interactive museum for all ages that features trick-eye exhibits and optical illusions. Your kids will learn valuable information in a fun way.
Ripley's Aquarium of Canada is a famous attraction for families with kids. You can observe hundreds of sea species and learn new information as you go along discovering the depth of the aquarium.
The Toronto Zoo is a living center for education and science, committed to providing compelling guest experiences and inspiring passion to protect wildlife and habitats.
Your admission fee paid to this Canada's premier Zoo helps support over 5,000 animal residents.
Niagara Falls Holidays
When looking for the best kid-friendly places to spend your holiday, you will rarely stumble upon Niagara Falls. We assure you, though, this is one of the best places to spend a fun family trip.
This could be your ideal family-friendly and kids-friendly location in Niagara Falls. The water park has over 11,000 square meters of water entertainment, huge playgrounds, wide pools, and high slides.
It's a very nice ride among the huge dinosaurs. Ambient noises will remind you of Jurassic Park. A fun family trip is guaranteed. Little advice, go there in the evening just before the fireworks. It is not hot, and the waiting time is not long.
Niagara Parkway offers a magical experience through the magnificent scenic route. A fall of natural beauty that is well maintained by local authorities is guaranteed to give your family and kids a unique and memorable feeling.
Montreal Holidays
Montreal is recognized as a city of carnival parties; you would think it is unsuitable for children. However, on closer inspection, we discover Montreal for the real cultural and educational playground for young families that it is; these children's activities are packed with attractions that will spark the spirit and creativity of your little ones of all ages
Take your kids to a giant warehouse full of trampolines and let them jump and bounce until they are exhausted. iSaute has two branches in Montreal, one in Kirkland and one in Anjou. Open to children and adults, Monday is the best day to go, as there are family jumping evenings with special prices for people with children.
This is the home of the Tam Tam weekly drum circle, with large picnic areas, an excellent toboggan run where equipment can be rented for a small fee, and several hiking trails. This kids-friendly holiday location is guaranteed to deliver a fun family trip.
Art galleries are not the first thing you imagine when you plan a children's weekend, but the people at the Montreal Museum of Fine Arts do a great job as curators for all ages. Most exhibits have a room with tactile activities for young children and free art workshops that complement the main exhibit. Forget the gift shop and take home a souvenir made by the whole family.
Vancouver Holidays
Vancouver is one of Canada's most interesting cities for kids to visit. The city is full of breathtaking natural attractions, making it a family-friendly destination. With so much to see, it's hard to know where to start. We have chosen the best three locations you can enjoy with your kids.
During your stay in Vancouver, don't forget to take your kids to Stanley Park, a huge park that attracts 8 million visitors annually. You will find gardens, monuments, golf courses, tennis courts, a small train, and the Vancouver Aquarium, which is the largest aquarium in the country. Your kids can enjoy all these attractions to the fullest.
This is a charming little neighborhood to visit in Vancouver. This community of artists has many shops, restaurants, theaters, and art galleries. You will also find the Granville Island Public Market, where you and your kids can buy a selection of fresh and handmade products to keep as souvenirs. The neighborhood is ideal and very popular among families.
Not sure what to do in Vancouver? If your kids love museums and art, spend an afternoon exploring every corner of the Vancouver Art Gallery. Housing a permanent collection of over 10,000 pieces highlighting Canadian and international artists, everyone will find something that suits them.
The Canadian Rockies Holidays
Ah! The mountains! The mountains and its fresh, invigorating, pure air! The whole family will enjoy the Rockies and all the activities you can do there. Here are three of the best kids-friendly location.
The fascinating Buffalo Nations Luxton Museum dedicates its exhibits to the history of the Native Americans of the northern plains and the Canadian Rockies. Their way of life, their rites, their hunting techniques, their homes, and the tools they used will be presented and explained to you. It is possible to enjoy a guided tour.
The Lake Louise Gondola takes you to an altitude of 2,088 m in just under 15 min. From up there, you and your kids will see in the distance the jewel of the Canadian Rockies: Lake Louise. The whole family will be dazzled! Be sure to visit the wildlife interpretation center. Do not worry; it is totally safe for children.
Not as popular as its neighbors Banff or Jasper, Yoho National Park is well worth the trip! Emerald Lake and its mirroring effect are striking. The Wapta Falls are accessible after a short hike in the forest. This will be an unforgettable family-friendly destination your kids won't forget.
Whistler Holidays
When you think of a place in Canada where you can take your energetic kids, you should start at Whistler, especially in winter. Dozens of kids' friendly destinations offer fun and exhilarating family activities. Activities that rhyme with adventure or burn the overflow of energy.
A very nice little museum that gets your kids closer to the culture of the 1st Nations. After a little tour in the main room, the children can take the opportunity to test the drums and the costumes and disguise available to try on.
Whistler's main attraction this season, if you are not mountain biking or hiking, is the Peak to Peak Gondola! A cable car connecting Whistler to Blackcomb, suspended between 2 peaks, holds the world record for the tallest and longest cable car!
Rainbow park is one of the most visited places around Whistler. The park is especially busy in winter. It has plenty of wonderful spots to visit the local mountains and an excellent hike from Green Lake on the Whistler Valley trail. Very popular with dogs and nordic skiers. Very easy to walk in the middle of winter with good boots.
Yukon Holidays
Yukon must-sees combine First Nations culture, the history of the gold rush, and the beautiful northern wilderness. You will immensely enjoy these places with your family and children.
You and your kids can explore the site to learn about more than a dozen species from the Arctic and the boreal forest. Take the 4.8-kilometer "observation loop" on foot, skis, snowshoes, or by bus if you opt for a guided tour. You will see caribou, lynx, elk, and bison in their distinct natural habitats, ranging from wetlands to cliffs, but never in an enclosure or in a cage. Keep your camera handy because you never know which animal will appear!
In the early 20th century, more than 250 paddle steamers connected the Yukon with the rest of the world. The largest of these steamers, the S.S. Klondike, today sits on the banks of the Yukon River. Restored to its original appearance, which was presented from 1937 to 1940, the paddle steamer will appeal to you and your kids.
The MacBride Museum of Yukon History offers visitors a chance to pick up a panhandle and experience gold panning. Obviously, this technique is just one of the many activities offered by the museum, which occupies more than half a block and offers exhibits spanning the entire history of the Yukon. This kids-friendly Yukon destination will guarantee immense fun for you and your family.
Quebec City Holidays
Quebec is one of the most populated cities in Canada and one of the busiest. There are dozens of kid-friendly destinations to visit, from which we mention a few.
To introduce your troop to cycling, nothing better than the Petit Témis Interprovincial Linear Park in Bas-Saint-Laurent! Offering more than a hundred kilometers along the shores of Lake Témiscouata and the Madawaska River, the accessible trail offers an easy route for everyone. Savor every moment with your family and teach your kids how to ride a bicycle.
Do your kids prefer to ride a space shuttle rather than a bicycle? Bring them closer to their grandest dream by visiting the Cosmodome in Laval! In an interactive way, they will be immersed in a spaceship capsule to explore the solar system. A 3 to 6-day camp is also specially designed for young people from 9 to 15 years old. Ready to go on a mission and become an apprentice astronaut?
In the Outaouais, head to the Mont Cascades Station water park to enjoy the water as much as possible. The park has four water slides for adults, six for toddlers, and six for everyone, as well as a large activity area, including waterfalls, swimming pools, and a picnic area.
Ottawa Holidays
Ottawa offers an impressive list of museums and kids-friendly attractions; the city is full of things to see all year round and is constantly bustling.
With its towering dinosaur skeletons, the Fossil Gallery was the favorite exhibit of boys who had fun taking funny pictures with these prehistoric animals. The museum is home to hundreds of fossils kids would like if they were into dinosaurs. If you go, do not miss the impressive skeleton of a blue whale.
The little Chinatown of Ottawa is a great discovery for your kids. On Somerset Street, at the corner of Cambridge Street, a pretty portal greets visitors and sets the tone for a visit. This is the perfect place to eat Asian dishes. Almost everywhere, the buildings are reminiscent of China, with colorful paintings and graffiti. On the ground, the children will be delighted to discover the 12 animals of the Chinese horoscope.
This museum will quickly win over your kids. It has an impressive collection of planes whose meteoric evolution can be seen over the past hundred years. For children, everything is in place to make the visit fun with cockpits and flight simulators. They can also experience the demonstration of the ejection seat.
Nova Scotia and Halifax Holidays
The city of Halifax deserves to be known because its attractions are numerous, with a happy blend of history and modernity. You kids can enjoy parks, museums, and gardens. This is one of the best cities for families in Canada.
The Halifax Public Gardens cover 16 acres of land in the city's heart. This oasis of peace, which celebrated its 153rd anniversary in 2020, is a perfect place to spend a family evening. Your kids will enjoy the Victorian Era building and decor.
The largest and oldest maritime museum in Canada is located in Halifax. Take your kids to discover the province's rich heritage in this area, mainly through two fascinating exhibitions. The first relates to the explosion of December 6, 1917, which completely destroyed the city. The other features are items recovered from the infamous Titanic shipwreck.
This farm offers fun activities, such as petting zoos, horse stables, playgrounds, and much more. The staff are friendly and can tend to your needs. This is an ideal destination for a family vacation. A must-visit when you are in Halifax.
You should also read the following:
Budget-Friendly Family Holiday Places in USA
Top 10 Cities to Visit in Europe during Holidays