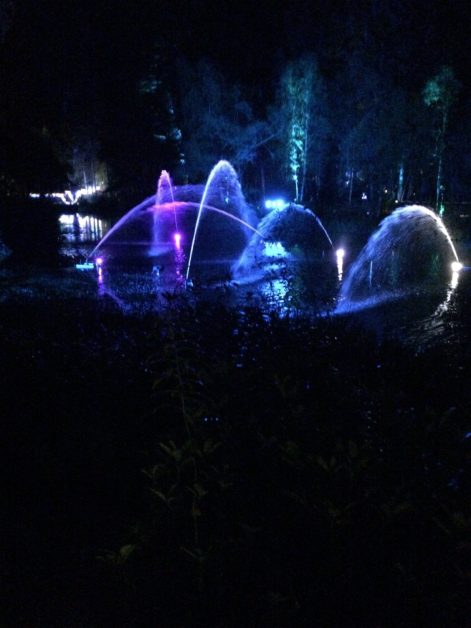 With great joy knowing we would be entering into the amazing Enchanted Forest, we got on the road to hit Scotland. We stopped on the way to visit kids' great-grandma in Glasgow, then set off to Loch Tay Highland Lodges holiday park where we would have our short stay over the weekend. I personally have never been to this part of Scotland before, so curiosity is on the rise!

Sat Nav gave an estimated travel time as 1 hour and 40 minutes from Glasgow. It was quite a pleasant travel journey apart from the never-ending rain (as you can see from the picture). Majority of the journeys are travel on single-lane roads. Typical Scottish tall trees alongside the road. The closer we get, the more we see Scottish mountains in a distance. I almost feel we are going to enter the wood fairyland in the end!
Kids are well-behaved all the way, watching iPad and listening to music, which add even more indulgence for adults' admiration to the Scottish scenery. There are some part of our journey we saw massive open land and not a scene of residence, this made me wonder how much population in this part of the world?! When we did pass a few towns before reached Highland Holiday site, a lot of stylish houses jumped out the scene —- this got me realise this area is of great interest for holiday property investors!
Almost right on time we got to our accommodation, the road sign is easy to spot. The wooden pointing-roofed wigwam lodge looks so cool in the dawn! Not until walking inside, we realised how trendy and modern this little holiday lodge is:

 Living area
Wooden dining table and 4 chairs, washing sink, a fridge, microwave, cooking utensiles, bowls and plates, even washing up liquid!
Bedding area
A double bed with basic mattress and sofa bed which can be turned into a small double bed. (This can fit in 2 adults and 2 kids easily.) At the back of the double bed, there's a little window opening up to the back scenary, more trees were on the scene and nature was so close!
Bathroom
Open the bathroom I couldn't help myself 'wow' – modern walk-in shower and towel rail, then simple and CLEAN toilet and sink with a makeup mirror with the wooden framed design coordinate the rest of the lodge.
Considering we are only expecting a camping place, I'm so amazed at the facility provided in this little tiny holiday wigwam. Not to mention outside area there is also a BBQ fire pitch, a good sized wooden table and two well-carved wooden chairs make it a complete outdoor camping set! Now just need to get fire started!

Next morning we went on an adventure around the holiday park. Go further down we could get to the lake called Tay – which in Scottish language, they call lake as 'Loch' (get your tongue position right!) This Loch Tay lay across Kilin area and extend to further north closer to Sterling of Scotland.
Kids all gathered to Loch Tay front, even with the cold October wind, they fearlessly dip into the lake to have a little holiday taste! There are many wild ducks in this area, some swimming in the lake, others following the tourists wishing to get some feeds – imagin chasing them and seeing them flying away is one of the games kids enjoy doing a lot!
Lots of the bigger sized lodges are around here, with a Bistro nearby it indicates these accommodations entertain quite a luxuary tourists group! Further exploring reveals waterfalls hidden in the mountain just behind our wigwam, it is not possible for us to go further exploring, but the sound and scenary make it a perfect experience of being in the woods and close to the nature! I almost instantly wish I could stay here longer to see and hear the waterfall hidden in the woods!
The exciting moment eventually came, time for us to step in the Enchanted Forest!
Pitlochry is reasonable small town, but Enchanted Forest almost triple boosted the town tourists population, the tourist routine is very well structured by scheduled coaches transfer, this has very effectively prevented the car parking problem. The coach transfer was allocated with your tickets purchase, staff on duty guide you to wait at the assembly area until the coach arrives. No time-delay for us, adults and kids all got on the coach happily. The on-coach instruction has given detailed tips about what and how to get around the Forest and safety advice etc not without some Scottish sense of humour of course!
Entering the Enchanted Forest has an immediate effect on me – the wood, the light and what lie beyond… I was almost certain I'm in an Enchanted land and ready to discover more. Kids were not very sure at the start, owing to the darkness and uncertainty, but soon they joined the fun with music, light, bridge, trees and also swans swimming in the luminated lake. What a fantastic experience in Scotland!!! Apart from feeling the wind and cold, I almost forgot about the time and the space we were at the moment, just following the flow of people, listening to music to interpret the story in the lighting, crossing another bridge and looking over the other side, more lights floating down from the hills and almost extend to the lake….
Ending the tour is almost unforgivable as to not seeking out the wood faires and return home for nothing! But at least kids were having great fun and with all day activities they were pretty tired. So we got on the schedule coach and returned to our wigwam lodge.
Exhausted I went quickly to bed with Alex my 3-year-old son, who was also really tired and couldn't wait for bed. But the exciting daddy and my 9-year-old daughter Victoria, the fun continued as fire logs were at stand-by, fire pitch must be tested! So they did and sadly me only got picture as an enjoyment…

The unforgettable Enchanted Forest and Loch Tay wigwam experience!