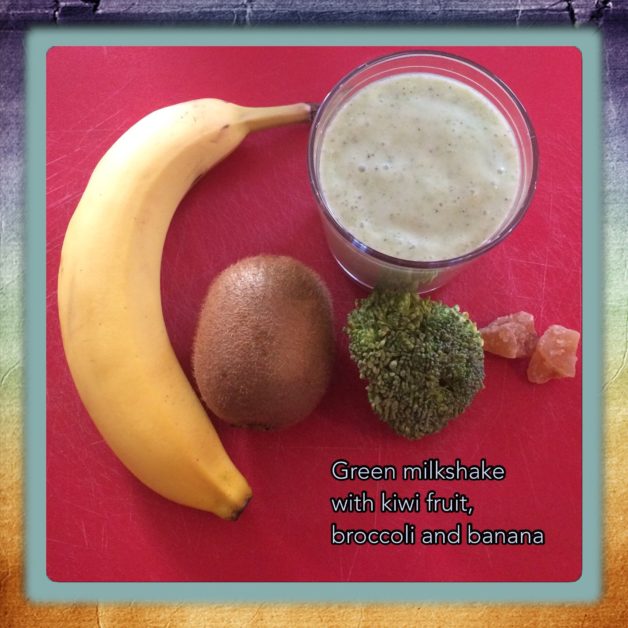 [et_pb_section fb_built="1″ admin_label="section" _builder_version="3.0.47″][et_pb_row admin_label="row" _builder_version="3.0.48″ background_size="initial" background_position="top_left" background_repeat="repeat"][et_pb_column type="4_4″ _builder_version="3.0.47″ parallax="off" parallax_method="on"][et_pb_text admin_label="Text" _builder_version="3.0.74″ background_size="initial" background_position="top_left" background_repeat="repeat"]
Green Milkshake with Kiwi Fruit, Broccoli and Banana
Ingredients for this green milkshake are:
1 kiwi fruit, peeled and cut into cubes
2/3 piece broccoli pieces
2 cubes of ginger crystal
Blend about 1 minute and ready to enjoy!
 Benefit of Kiwi Fruit
Kiwi fruit is regards to a very nutricious fruit due to the fact it contains vitamin C, vitamin K, vitamin E, folate, and potassium. They are a good source of fibre. Some people might not like the look of the little black seeds, but they are edible and are contributing to below factors as the major benefits of kiwi fruit. 
There are studies indicate kiwi fruit helps people with ashma symptoms through its high amount of vitamin C and antioxidants. It benefits lung function and could reduce wheezing in susceptible children if taken on a regular basis. 
As kiwi fruit is a source of fiber, it brings good benefit to the digestion system. There is something called actinidin which is contained in kiwi fruit. This helps to break down protein, subsequently ease off the digestion process in our stomach. 
Kiwi fruit is full of vitamin C, and 1 cup of kiwi fruit can provide about 273 percent of our daily vitamin intake recommendation. For people who fall in at-risk groups such as adults over 65-year and younger children, regular consuming kiwi fruit can boost their immune system to reduce the chance of them getting cold or flu-like illness. 
Blender Recommendation (sponsored)
In this blog, I also recommend this blender as one of the latest modern version blender – Homgeek Personal Blender Smoothie Maker.
Good feathers about this blender are
Lightweight bottle fits most car cup holders.
Easy care, completely dishwasher safe.
Detachable safe blades, just to run water over it for cleaning.
With a 350 watt motor, an amazing 21,000 RPM and 4 super-sharp, surgical quality stainless steel blades, Double 600ML bottle.
Portable Blender ideal for the gym, work, school .
Enjoy healthy life to make fruit and vegetable juices, milkshakes, smoothies, cocktails and more in a short time.
A secure shutoff which prevents the motor from running unless the jar is attached.
It also has suction feet which help it grip the countertop without "walking" or tipping over.
The jar can safely go in the refrigerator, freezer and dishwasher.
Homgeek also offers free replacement or refund policy in any case!